Installation of a waste and laundry vacuum system at Södra Älvsborgs hospital in Borås, Sweden.
Challenge
Kurt Bergström is a project manager at Envac – the environmental technology company that wants to contribute to sustainable societies with the help of modern waste management. Envac has been a customer of TechTribe for more than 25 years. Kurt talks about the long, secure and loyal customer relationship between the companies, where together they have solved a large number of challenges over the years. The installation of a waste and laundry system at Södra Älvsborg Hospital is just one of many projects, where they cracked the problem together and solved it. Trust and a high understanding of customer needs and technology are crucial for good cooperation.
"Envac strives to be part of the opportunity to take waste and waste management into the future," says Kurt. "We want to show that a well-built and modern infrastructure around garbage and waste allows us to leave traditional management behind. Say goodbye to garbage trucks, messy garbage cans and in this case – overflowing laundry baskets."
In a hospital like Södra Älvsborgs Hospital, patient safety, work environment and hygiene are business-critical and decisive factors. It was against this background that Södra Älvsborg Hospital commissioned Envac to modernize and streamline laundry and waste management in the infection ward.
Solution
Two different inlets with suction function were installed in the air locks to all care and examination rooms in the infection ward. One for waste and one intended for laundry. The technical installation required electronics that communicate with the various components of the plant.
"We then of course turned to TechTribe for help installing all electrical cabinets and the opportunity to provide the right electrical equipment so that the flow between the inlet and the terminal would work optimally."
Results
The new infrastructure of suction system that Envac, together with TechTribe, provided means that both waste and laundry are now efficiently transported away from the care rooms to the respective terminal for handling. The work environment and patient safety in the infection ward at Södra Älvsborg Hospital are now not at all burdened by waste and laundry handling. On the contrary, Envac's suction system has completely eliminated these tasks for the hospital's care and surgical staff. This has not only increased safety and reduced the risk of spreading infectious diseases, but also reduced operating and maintenance costs.
"TechTribe's contribution to this long and large project has been an important and crucial part. As always, we are incredibly satisfied with how TechTribe tackles our challenges and solves them with great skill," concludes Kurt Bergström.
About Envac
Envac is an international environmental technology company that contributes to sustainable communities with the help of modern waste management through waste suction plants. We lead the development in the industry and continuously improve the systems with new solutions. Envac wants to contribute to a better environment and improve the quality of life in cities. We want our waste suction plants, which transport the waste underground and in culverts, to be a natural part of the city's infrastructure and the obvious choice for collecting waste in cities, hospitals and airports.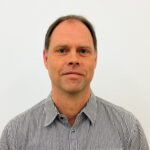 Kurt Bergström, projektledare på Envac